Google translation here but it is not perfect....









Inga's cake with apples

Inga's fäbodcake met appel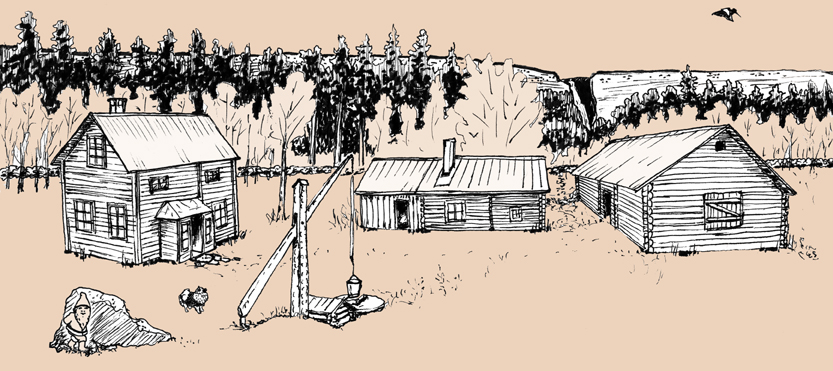 Stenvallen, a Genuine Summergrazing Farm
Fulufjället National Park, Sweden



Stenvallens fäbod is located 5 km east of the waterfall Njupeskär in Fulufjället National Park, 25 km from Särna.

A guided tour around Stenvallen in Mörkret will take you back 100 years, when my great grandfather was the landlord of the travellers rest on the old post route between Särnaheden and Mörkret and then on to Norway. We tell you about life in the olden days and you are welcome to look inside some of the old buildings, still without electicity and kept in their original state.

When your group leaves the gravelled forest road you are met by 'a man from the past' who leads you 1 km through the pine forest. You are beckoned by the sound of 'calling the animals'. When you reach the homestead we share our knowledge of the history of the place and the area, and you get an opportunity to walk around at your leisure, to look at all the old genuine buildings.
We serve light refreshment in the main building. Most of our products are made from ecologically grown ingredients and coffee is made the local way ie. boiled in a large kettle on top of the old cast-iron cooker, fired with birch wood.

You will find out more about nordic summergrazing and the life of years gone by. If you have the time, you may wish to stay and take some photographs, look more closely at the buildings or explore the area in the vicinity.
On your way back to civilization you will find breathtaking views of Fulufjällets National Park and the waterfall Njupeskär 5 km away.


Background:


Stenvallen was the summerfarm for a homestead in Särnaheden some 20 km away. We don't know how old it is, but "Stens fäbodvall" was mentioned in a book from 1829.

The old road from Särna via Särnaheden to Mörkret - Njupeskär - Gördalen went between the houses in Stenvallen. In the 1880:es a few tourists found their way to Njupeskär. The waterfall and Stenvallen were mentioned in The Swedish Touring Club's annual book of 1891.

The tourism increased and my ancestors decided to exploit it and planned for a life in Stenvallen. In the 1890:ies they built the two-storey building and opened a travellers rest.

At that time the only way to get to Mörkret summertime was to go walking or riding on horseback. During the winter they used skis or horse and sledge. A road was planned to go quite near Stenvallen and my ancestors cultivated the big field, built the big barn and also a stable in order to offer accomodation for travellers and their horses.
Due to envy and disagreement between the local people the road to Mörkret, completed 1920, went too far from Stenvallen, the customers decreased and the family moved back to Särnaheden.

Stenvallen was in the summers rented by other families, sometimes two at the same time, until the 50:ies. They kept the place in good shape, neat and clean. Since then nobody has used it and there has been lots of decay, of course.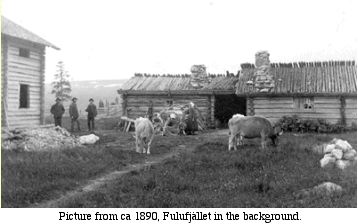 Stenvallen is still genuine!


My grandmother Julia who was the owner of Stenvallen, died in 1971. My mother, Carin and her brothers and sister could not come to any agreement on the inheritance. My grandfather, Harald, died in 1991. Still no agreement was reached..... My mother, Carin, died in 1998. Finally, in 1999, I managed to come to an agreement with them. I finally ended up with this farm, which I had longed for the last 25 years!

In spring 2000 my family went to Stenvallen for the first time in at least 15 years. The place looked miserable. Small and big birch trees grew all over the place. The barn roof was on the ground. We were not at all happy. But, with saw and axe we cleared our way between the houses, and got happier and happier. Now we have a new chimney in the big house. The well is cleared and an outhouse with a view is built for everybody's convenience.
This last year we have had carpenters rebuilding the big barn and the next step is to restore the old cottage. Our goal is to find a person to keep animals here and run a real summer farm with cows, sheep, goats, maybe hens and a cat.

There is no electricity, and we don't want a road all the way. The place wouldn't be the same with a car in sight.

We have an ecological fight against mosquitoes and other biting insects. Sten has put up about 25 nesting-boxes for insect-eating birds. He is very much for the birds and ringing them.



We also offer bird-watching tours:


Choose between a guided bird-watching tour around the lakes of Rösjön on top of Fulufjället, or go with us to the impressive bird-watching area of Glysjön, which is found 20 km south of Särna. The lakes of Glysjön are situated in a vast area of marsh- and bogland, combined with narrow ridges covered with old slowgrowing pine trees. Small log-shelters, bird-watching towers and places for camp fires have been built and the area is easily accessible.



The eerie sound of an old-fashioned "sheep call" - used to communicate with sheep and neighbours in the forest - is an unusual welcome to a very unusual and special place. Walking through the old pine forest, following an ancient long-distance path, I wondered what lay ahead - but I was pleasantly surprised with what I found. The Stenvallen Summer Farm is being slowly restored after years of neglect, but Inga Wall and her family have already turned the derelict farmhouse into a charming and welcoming home. No electricity, no cars, but lots of genuine period details. Water is drawn from the well by hand, and most of the restoration is being carried out with hand tools. When the old barn is restored Inga hopes to get the farm working properly, with livestock and traditional farming techniques to be experienced by visitors to this wonderful "step back in time".
Oct 15, 2006
A. S.


Stenvallens fäbod is one of the first PAN Park Partners in the area.
We cooperate with, and can be booked through, PAN Park Partners and the accommodations in the area. The PAN Park Accommodation Fulufjällsbyn is within walking distance only 2 km away.


Welcome to visit us in Stenvallen!